No More Dropped Issues
How Digital Workflows Can Decrease Costs for Your Oilfield
As the oil and gas industry looks to cut costs while simultaneously boosting productivity through efficiency, predictive maintenance remains an integral asset. The value provided by predictive maintenance for operators is what drives and inspires Detechtion Technologies, and it is why we have focused our efforts on the oil and gas industry's needs in the production of our Fieldlink app.
Digital Oilfield
Ever since the 1960's when oilfields began the process of digitizing with SCADA systems, there has been an increase in data supplied by the field. From thermography, lubrication and electrical connections of equipment collected by sensors to data collected by enterprise systems such as ERP (enterprise-resource planning), EAM (enterprise-asset management) and EMS (enterprise-management system). Each data point tells a story.
Industrial Internet of Things (IIoT)
Predictive maintenance is nothing new. In fact, the strategy has been widely used in the oil and gas industry for the past 20 years (offshoretechnology.com). Even so, predictive maintenance has received a boost due to the more recent development of the Industrial Internet of Things (IIoT) and advances in artificial intelligence (AI).
IIoT consists of some 50 billion mini-machines that incorporate tiny sensors with dramatic increases in storage capacity and processing power, real-time analytics of unprecedented sophistication and the ability to immediately translate that data into meaningful action.
Yet, approximately 42% of development, exploration, and drilling equipment is more than 15 years old and works at only 77% of its maximum productivity (connectedworld.com). With the help of advances in IIoT, predictive maintenance can specifically focus on data retrieved through periodic or continuous monitoring of the health and performance of equipment that's currently operating under normal working conditions. And it can do this without disturbing day-to-day business.
This consistent digital monitoring of asset conditions empowers businesses to continue their evolution away from reactively engaging with problems as they arise to instead taking proactive steps by predicting and planning for parts repair or equipment failure. Ultimately, predictive maintenance saves 8% to 12% over preventative maintenance and upward of 40% over reactive maintenance, according to the U.S. Department of Energy (www.scnsoft.com).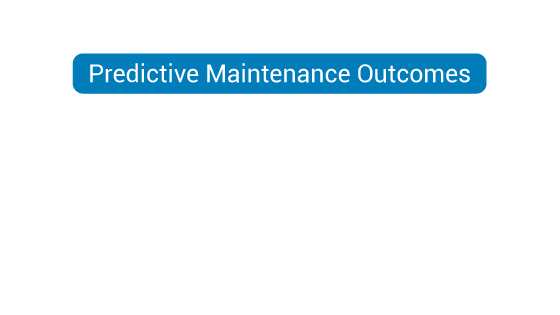 Maintenance Costs
A report by Schneider Electric shows the advantages in applying IoT-enabled predictive maintenance solutions, which anticipates $4 million saved due to early identification of rotating machinery damage, $500,000 saved due to early identification of coupling failures, $370,000 saved due to early identification of heat exchanger valve problems and more.
Additionally, the U.S. Dept. of Energy indicates that oil and gas companies can increase production output by 25%, achieve a 30% reduction in maintenance costs, and a 45% reduction in equipment downtime when they apply IoT-driven solutions for equipment maintenance (connectedworld.com).
Reduce Downtime
The three segments of the oil and gas industry: upstream (exploration and production), midstream (transportation and storage) and downstream (refining and processing) can benefit from the increased equipment productivity while reducing unplanned downtime because of IIoT's predictive analysis.
Kimberlite shows that companies with unplanned downtime will incur additional costs in repairs (71%), labor (40%) and transportation/logistics (37%). To put it another way, "3.65 downtime days per year—can cost organizations $5.037 million each year. Averaging just over 27 days of downtime each year, offshore oil and gas organizations experience $38 million in financial impacts from unplanned downtime. For the worst performers the costs can be upwards of $88 million."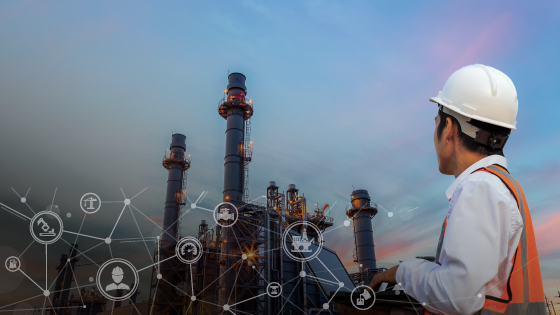 Oil and Gas Solutions
Fortunately, as we are beginning to see, solutions are available today. Not only are advances in AI and IIoT showing promise in providing predictive maintenance, but they also ensure the resolutions of problems related to dropped issues or inefficient management of work orders.
It is these specific oil and gas issues that are the focus of Detechtion's Fieldlink app. One client, an international oil and gas exploration and production company that is also one of the largest U.S. oil and gas companies based on equity market capitalization, provides an excellent example. They were utilizing an unnecessary amount of personnel hours to process and manage issues that 3rd party technicians were noticing in the field and submitting by phone, text, email and paper. As you can imagine, many issues were falling through the cracks, not being addressed or being addressed without anyone's knowledge. Fieldlink gave them visibility into this important aspect of their predictive maintenance.
Work Orders
Another client, who is the U.S. arm of an international conglomerate's onshore oil and gas business, needed a better system of management for EAM work orders. Once again, this preventive maintenance system that allowed technicians to record their observations and issues found in the field was being jeopardized by an inefficient system. Technicians completing work were writing down their reports, handing them off to additional personnel who were then recording this information into the EAM system from the truck or office, resulting in missed or incorrect details and a lag in critical real-time information. By moving to mobility in the field with Fieldlink, this client reduced headcount by 30% and now has full visibility into work orders dispatched to the field in real time, allowing them to know when work is completed, parts need to be ordered or work is still in process.
To learn more about how Fieldlink can increase visibility into your predictive maintenance systems, schedule a call with our team.