Real Problem Solving in Real Time
How Digital Work Order Management Streamlines Operations
Work orders have always been an integral component of necessary preventative management and maintenance programs deployed by all sectors of the oil and gas industry. Traditionally, a field technician, staff member, tenant or vendor would fill out and submit a request for authorization of essential repair, maintenance or operation work.

Typically this paper-based system covers the reasoning why the maintenance or repair is needed; what necessary resources are required to complete the work; provide detailed instructions on how the work is to be completed; provide complete documentation of what work has been done along with the resources used and, finally, track all work done on each asset. After all these details are addressed, the work order would include the information of all personnel involved in the project from request to authorization and include when and where the work is completed.

The Advent of the Digital Oilfield
As the oil and gas industry expanded and the need for cost savings and efficient production increased, this paperwork became a cumbersome burden. Important details were falling through the cracks and personnel hours were wasted on logging and tracking paperwork. Not to mention the environmental cost associated with a paper-heavy system. As the oil and gas industry turned toward digitization, the amount of available information increased against a system that was not designed to contain or process it. This information included sensor readings providing real-time updates from various equipment or systems, scheduling requests and needs, insights into compliance and regulation and more. Growth and profitability were directly impacted by this unmanageable system.
Reducing Downtime & Managing Costs
Ultimately, as paperwork orders failed to keep up with an increasingly digital oil field and the growth of the sector, operators began filling in the gaps with an Enterprise Asset Management (EAM) system. Thanks to advances in the Industrial Internet of Things (IIOT) these systems do more than thoroughly digitize work orders to keep up with data flow. Rather, digitized and integrated work order management is an integral aspect of an EAM's holistic approach to a company's efforts to manage aging infrastructures. By extracting optimum performances from these structures, companies can achieve profitability while simultaneously cutting costs and minimizing health and safety risks.

According to GlobalData, "Asset management solutions can play a pivotal role in making this happen, along with ensuring that operational costs are kept in control. These solutions also improve the overall uptime and performance of assets and prolong their operational life. Moreover, the growing need to curb greenhouse gas emissions from oil and gas operations is giving added impetus to implementing asset management solutions."
Why a Mobile Work Order Interface?
With EAM systems revolutionizing how the oil and gas industry maintains a careful balance between so many integral assets, the need for a properly integrated mobile solution is equally important.

For example, here at Detechtion Technologies we understand that managing data from the field is problematic; data is coming in too late or with too many errors to be able to leverage for near-time decision making, invoicing or invoice approval. This is why we created Fieldlink, a mobility platform for oil and gas that enables cloud-based data collection and communication. This serves two critical functions: it supports information gathering in a central location while facilitating access from anywhere.

Better data allows tenants to operate by exception and spend valuable time/resources on high priorities. Better field visibility allows fewer trips to the field which are expensive and dangerous.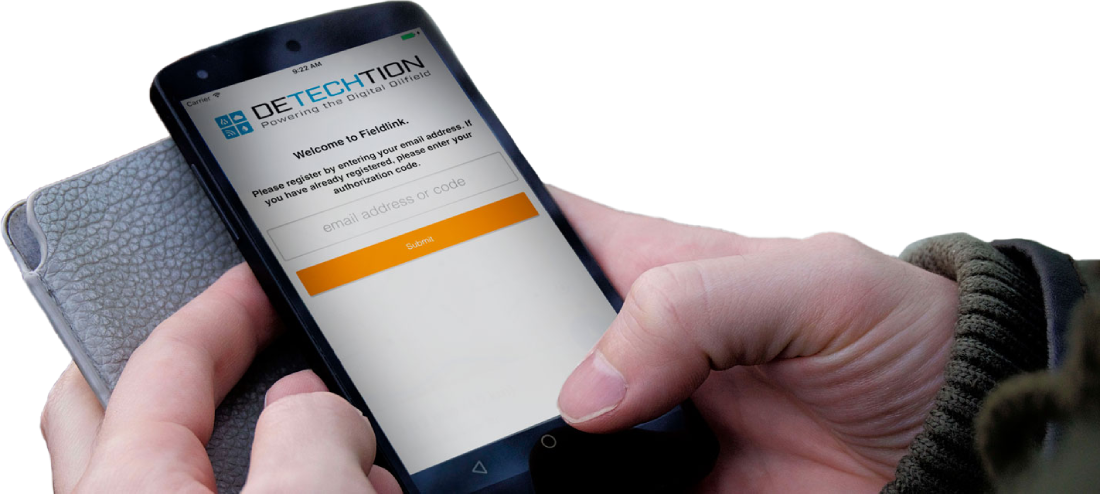 EAM Is a Tool – Fieldlink Is Your Solution
With Fieldlink, an operator can have full visibility into work orders dispatched to the field in real time, so they know when work is completed, parts need to be ordered or when there is something still in process.

Already part of an established platform with oil and gas industry specialization, Fieldlink can be designed and configured as needed for any operation. The platform can operate on any smart device: phone, tablet or computer and offers local data caching in remote locations. Additionally, this mobile system:


Offers immediate ROI and quick turnaround for deployment
Supports QR and barcode scanning for inventory
Creates flexible forms as templates not source code
Uses geo-fencing to match users to assets
Can model activities at all phases of the well lifecycle
Utilizes user-based pricing rather than cost per workflow
Provides integration API for connecting to other applications
If you are interested in learning more, schedule a discovery call today or download one of our many case studies and find solutions to fit your needs.

To learn more about how Fieldlink can increase visibility into your predictive maintenance systems, schedule a call with our team.