Digitally Transform Your Water Hauling & Disposal Systems
Detechtion's Fieldlink delivers Digital Transformation of previously manual, fragmented oilfield business processes, including Water Hauling & Disposal.
Paper Burden with Water Tickets
The Client
With corporate headquarters in Pittsburgh, PA, and operations in West Virginia and Ohio, this leading independent natural gas producer engages in hydrocarbon exploration and pipeline transport. Their focus is in the Marcellus and Utica shales of the Appalachian Basin.
The Problem
The Client was managing their water hauling operations either on paper or by calling, texting or emailing 3rd party vendors when they needed water hauled from their locations. This resulted in missed loads, too many trucks dispatched and not knowing what was occurring until they heard back from the vendor. Invoicing was also a time-consuming item, as data arrived in multiple formats from each vendor which then had to be manually put together for review and approval. The Solution With Fieldlink, the Client saw a way to streamline their water hauling process and do away with paper within a few months after implementation. Loads are dispatched electronically through Fieldlink to each vendor, allowing them to accept or reject the load. Drivers then completed the tickets through Fieldlink on sites, and tickets were submitted to the Client for approval. Everything is paperless and complete on the same day work occurs.
The Takeaway
The Client has now been on Fieldlink for 3+ years and has reduced time to invoice significantly (2 weeks to 1 day) while reducing process management headcount on the team (from 6 to 3 FTE).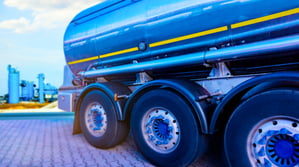 Enbase and Fieldlink by Detechtion make it easy to see all the relevant information in real-time, at a glance, from any location.