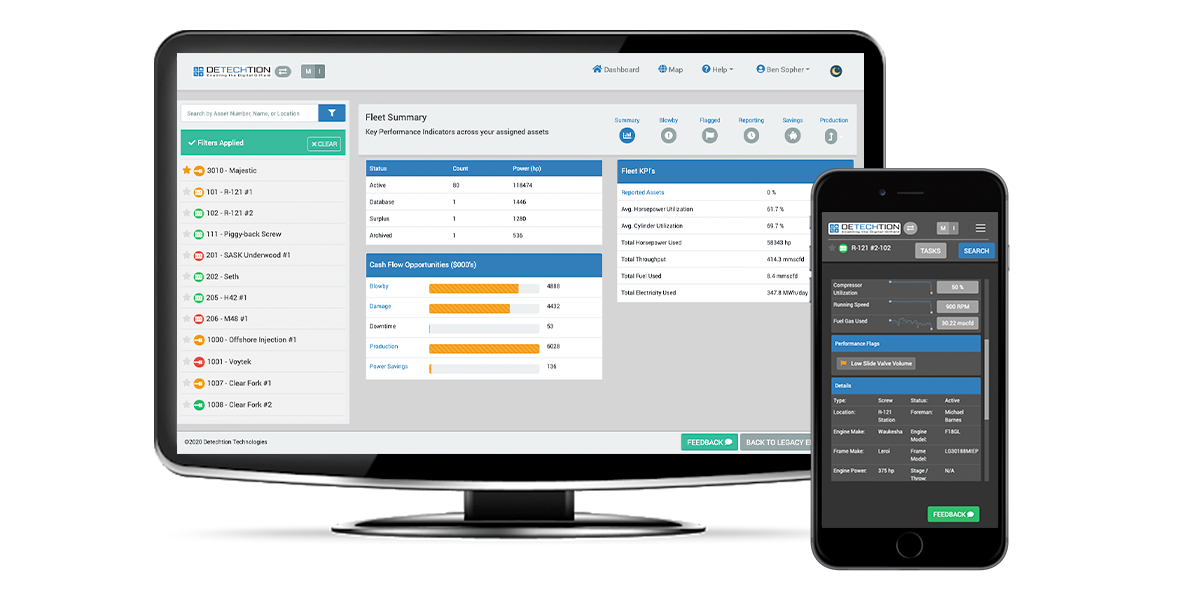 Today, Detechtion, a market-leading Asset Performance Management software company launches the next generation of Enalysis to further improve the value it delivers to upstream oil and gas customers.
Detechtion Technologies, the proven Asset Performance Management, Industrial IoT, and Mobile Field Services Management solution provider in the Upstream Oil & Gas industry, today announced the launch of the next generation of Enalysis. Version 5.0 offers a new and greatly improved user experience allowing customers to better identify, investigate and act on valuable opportunities for improving their assets' and fleets' performance. In addition to improving the overall user experience, Enalysis Version 5.0 is built on an entirely new platform dramatically improving the software's scalability, ability to deliver new features in a rapidly evolving market, and capability for users to work seamlessly on their mobile devices.
"For performance management of compressor fleets, Detechtion will continue to progress our standing in the market," said Eric Neason, Senior Vice President of Product & Services. "Enalysis Version 5.0 serves as a milestone to Detechtion's continued commitment of delivering value for our customers, highlighting investment back into its products and services, and ensuring long-term sustainability."
The new platform is the culmination of close collaboration with customers, augmented with usage analytics, focused on making the greatest impact in their most common use cases. Significant improvements include:
Completely re-designed user experience which improves usability and navigation
Enhanced compressor summary pages with visual queues, such as spark lines, leading to better and faster analysis of compressor performance
Re-envisioned search feature to quickly locate and move between units, enabling easier management of large compressor fleets
Improved mobile responsiveness to support increased customer use in the field
Plus, numerous improvements to trending and key workflows
Version 5.0 brings predictive maintenance opportunities to the forefront, allowing maintenance teams to identify issues earlier, it highlights fuel and electrical saving opportunities, and uncovers opportunities to increase overall throughput and revenue. Early testing by Enalysis customers has been overwhelmingly positive, confirming the huge leap forward in usability and value.
"Our mission is to create value by bringing asset and fleet optimization to natural gas compressors operating in remote and hazardous environments," said Neason, "and the launch of Enalysis Version 5.0 as a new software platform expands that value by bringing to market a software that truly understands the needs of its users and market."