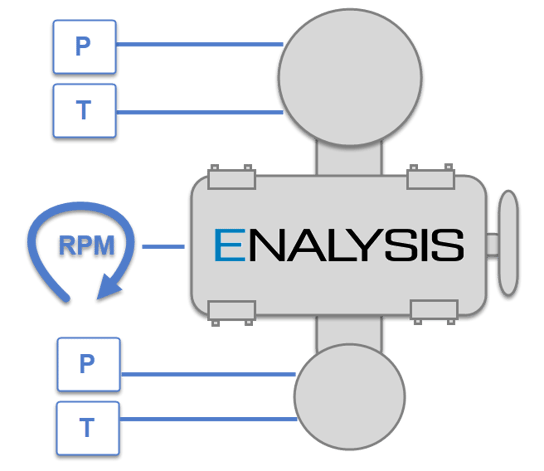 Enalysis™ is a powerful and unique, web-enabled software tool for compressor fleet management and optimization. But to capture the maximum benefit, we need to feed the right set of operating parameters to Enalysis™ so that we can understand exactly how efficiently your equipment is operating. We'll highlight below the 4 most popular ways our customers collect the data required to generate an Enalysis™ report, and cover the minimum set of information that should be collected for both reciprocating and screw compressors.
1) Enbase™ Hub
If you are utilizing the Enbase™ hub for asset monitoring and/or control, and have the minimum set of data points available, the Detechtion support and services team will setup the data integration to Enalysis™ for you. This is Detechtion's recommended approach to capturing data for Enalysis™ as it removes as much burden as possible from our customers and alleviates the need for manual data collection.
2) Existing SCADA Systems
If you have an existing SCADA system in place, you can setup scheduled transfers of data from those systems to Enalysis™. Data can be submitted via .csv or XML to Enalysis™' web service. Our product team makes every effort to ensure this process is straight forward where possible, and our Engineering Account Managers have collectively helped our customers setup thousands of these automated data transfers. This is next best approach to capturing data for Enalysis™ as it creates a steady data stream and alleviates the need for manual data collection.
3) Enalysis™ Web UI
If you do not have the systems in place yet for automated data transfer, Detechtion recommends submitting directly through Enalysis™. The benefit of submitting data directly through Enalysis™ is that it instantly allows the user to see the asset's performance, trend data, simulate other conditions, view curves and start-up packages, and provide comments on the asset's performance directly in Enalysis™.
4) Mobile Field Data Collection - Fieldlink™ for Enalysis™
If you have a remote asset with no access to internet, Detechtion recommends utilizing Detechtion's mobile application Fieldlink™ to capture the necessary data for an Enalysis™ report. Fieldlink™ will store the data submitted until you are back within cell range, and submit the data once your connection is restored. All Enalysis™ customers are able to access the mobile application by following these simple instructions.
Detailed Data Requirements
The following table highlights both the required and recommended data for generating Enalysis™ reports for both reciprocating and screw compressors.